A Tribute to Richard Linster — TLNA Council member 1985 – 2018
by Patty Prime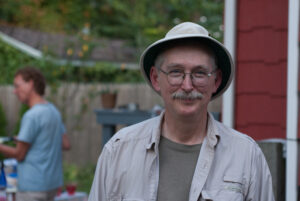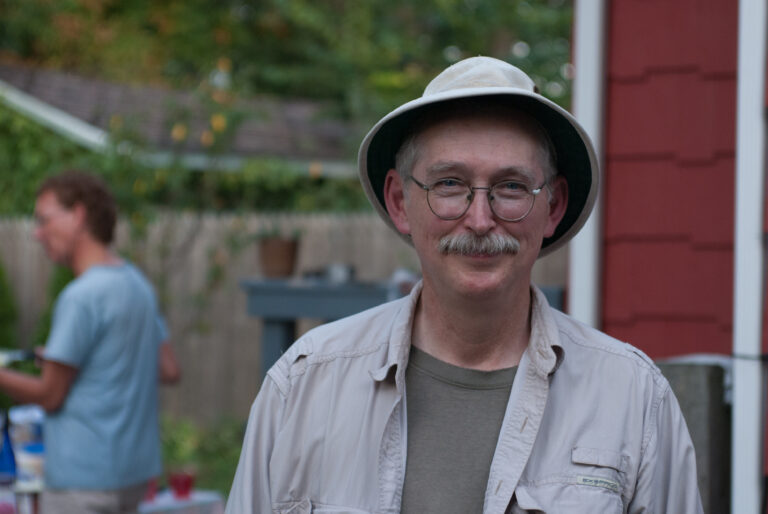 The Tenney-Lapham Neighborhood Association wouldn't be what it is today without Richard Linster. When he was interested in something, he would throw himself into it, not with bombast, but with a steady, persistent and constant presence. He loved history, blues music, genealogy, war games (of the analog kind) and his neighborhood. With the same fervent passion he had for all his interests, he fully devoted himself to the Tenny-Lapham neighborhood.  
In the seventies, during the early days of our neighborhood association, families were moving away from downtown.  Due to the low census of children in the area, Lapham School closed in 1979.   Over the next decade, being the pest he could be, Linster and others lobbied the school district and the city to reopen the school.  In 1989, their perseverance paid off in no small part to Linster's effort, and Lapham School was reopened.  I often wonder if our little slice of Madison would be as family-friendly as it is today without an elementary school. 
Linster was president of TLNA for many terms, but his real passion was always encouraging membership in the neighborhood association. He believed that building and maintaining the membership was what kept TLNA strong. Even in the years that he wasn't membership chair, he never stopped knocking on doors and leaving reminders. His persistence helped him recruit and maintain members, as he wouldn't stop until he got a hold of you. Sometimes that meant waiting for a snowy day when a football game might be keeping people at home. He'd compile his list of who owed their dues, and off he'd go. With his efforts, TLNA has consistently had the most paid-up members of any neighborhood association. If there was a TLNA event, he'd be there, with his table set up to greet neighbors, asking them if they needed to pay their dues, or to join TLNA. 
If someone checked the box on the membership form  indicating they were 'interested in getting involved', he would send an email asking if they'd like to get together to learn more about TLNA. As I got more involved, he would invite me to accompany him. To me,  Linster's reaching out felt like an awkward cold call. But I learned that this was his way of connecting with our neighbors on a one-on-one basis and it worked! He had an encyclopedic memory for most things he was interested in, and this spilled over to include the people in our neighborhood. He knew their names, their families, what they liked about living here, and what they worried about. Often TLNA council members discussed how to reach out and attract more people to participate in and join the neighborhood association, but real impact came from Linster, year after year, one neighbor at a time. 
For years I ran an annual planning meeting for the TLNA council to help new members get to know the old, and to think about how we could best serve the neighborhood together. There was one icebreaker in particular that I used, where I would ask each person how they learned about TLNA. As each council member introduced themselves, one after another would say something along the lines of '…well, Richard Linster asked me to get involved!'
It's hard to overstate the impact Richard Linster has had on the Tenney-Lapham Neighborhood. 
In loving memory to RIchard Linster 1947-2020
_________________________________________________________________________________
Obit
Linster, Richard William Jr.
MADISON – Madison lost a true icon and character on Dec. 21, 2020, when Richard William Linster Jr., "Linster," 73, died at home after a long illness. A Madison resident since 1965, Linster and his wife, Patty Prime, moved to the Tenney-Lapham neighborhood in 1984, where they raised their children and were active members of the community. Linster served on the TLNA board from 1985 until 2018. He was often spotted biking around the neighborhood, once even toting a Christmas tree home on his bike. Linster served on the Dane County Board of Supervisors from 1990 – 1992.
Linster was known for his kindness, eccentricity, and pursuit of knowledge. A lifelong learner, "Professor Linster," as he was known, was fervent in his pursuit of his interests. He had an encyclopedic knowledge of history, particularly the Civil War, and would spend hours explaining the idiosyncrasies of specific battles to anyone who would listen. His interest in military history morphed into an interest in blues music, where Linster became equally versed in the genealogy of blues artists in order to better understand their influences. His foray into the blues genealogy eventually led him to branch into family genealogies as well, where he became the go-to historian for the family. When his genealogy studies revealed his Luxembourg ancestry, he was able to provide enough documentation to the Luxembourg government to be awarded dual citizenship, which he also provided to his children, grandchildren and sister. He enjoyed travelling, including trips to Luxembourg, Ireland, Spain, France, Germany, Italy, Costa Rica and other countries.
Linster was a rabid poker player, enjoying weekly games with his poker buddies spanning over 40 years until the pandemic. In his last year he learned to love Scrabble, his favorite game, as he quarantined with family. He was known for his homemade eggrolls, which were a staple at the neighborhood holiday party he hosted, and he could always be found with a good beer.
Linster is survived by his wife of 44 years, Patty Prime; daughters, Calliope (Harald Jordahl) and Meridian (Glen Skolaski); son, Emrys; and five grandchildren; as well as a sister, Robin McQueen. He is preceded in death by his parents, Richard William Linster and Rose Mary (Drace) Linster; as well as his brothers, Charles and Craig; and sister, Carol.
Due to Coronavirus, the family will plan a celebration of Linster's life later in 2021. In lieu of flowers, the family will be accepting donations for a bike rack in his honor (gf.me/u/zdpqiq). Alternatively, if you prefer to donate to your favorite charity or cause in his name, that would be lovely as well.
_________________________________________________________________________________
To Richard—
A sight as familiar as the church on the hill
An easy pedaling blue capped figure slow smiling and waving still
Though we have lost a dear friend of the TLNA as our friend "Linster"*
Passed today, we remember the myriad ways he improved us—
His ethics impeccable, his stands unmistakable, finally the figure
We all came to enjoy, was breakable. His knowledge of blues, mainly
Delta, impressive. He reigned on the council and did not brook digression.
His Jimmy Stewart small town contentment helped leaven the heat
His commitment to membership could not be beat.
His neat script on the paper, and keeping dues low
Brought many a newbie into our fold.
I'll miss seeing him pedaling easy and sure
But know that the Linster legacy long will endure.
Gay Davidson-Zielske
_________________________________________________________________________________